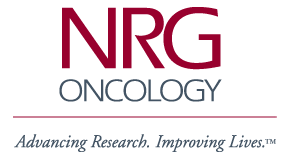 ---

NSABP Members' Area
Password Protected - Access
Limited to NSABP Participating
Institutions Only

NSABP Foundation, Inc.


---
General NSABP Information
Financial Conflicts of
Interest Policy
Contact the NSABP
Employment

Clinical Trials Information
Clinical Trials Overview
Protocol Chart
Never Say Lost
Treatment Trials Information
Protocol B-51
Protocol B-52
Protocol B-53/S1207
Protocol B-55/BIG 6-13
Prevention Trials Information
Protocol P-1 - BCPT
Protocol P-2 - STAR
---

To report problems, ask
questions or make comments,
please send e-mail to:
Webmaster@nsabp.pitt.edu


NSABP Division of Pathology
---

Director:
Soonmyung Paik, MD (soon.paik@nsabp.org)

Administrative Manager Tissue Bank:
Melanie Finnigan (melanie.finnigan@nsabp.org)

Histotechnologists:
Theresa Oeler

Division of Pathology/Tissue Bank Contact Information:
Phone: 412-697-6611
Fax: 412-697-6613
E-mail: pathology.questions@nsabp.org

Contents
1. Overview and Scope of Operation
2. NSBAP Tissue Bank
3. NSABP Tissue Bank Policy (Information About Maintenance, Distribution, and Utilization of Biologic Specimens)
4. Important Information About Submitting Blocks to the NSABP
5. Protocols with Pathology Material Available for Study


---

1. Overview and Scope of Operation

The NSABP (National Surgical Adjuvant Breast and Bowel Project) Tissue Bank is the central repository of tissue samples (stained and unstained slides, tissue blocks, and frozen tissue specimens) collected from clinical trials conducted by the NSABP. The NSABP Tissue Bank is located at the NSABP Division of Pathology laboratory. The main scientific aim of the NSABP Division of Pathology is to develop clinical context-specific prognostic markers and predictive markers that predict response to or benefit from specific therapeutic modality. To achieve this aim, the laboratory collects the tumor and adjacent normal tissues from cancer patients enrolled into the NSABP trials through its membership institutions, and maintain these valuable materials with clinical follow-up information and distribute them to qualified approved investigators. Currently, specimens from more than 90,000 cases of breast and colon cancer are stored and maintained at the bank.

Back to the contents

---

2. NSABP Tissue Bank

*Note: NCI Cooperative Breast Tissue Registry Database (It is recommended that investigators visit this site before requesting tissue from NSABP Tissue Bank)

http://resresources.nci.nih.gov/

Logistics of Tissue Procurement
Currently tissue blocks are mandatory submission items for most of the NSABP trials. The tissue specimens are initially sent in to NSABP Biostatistics Center at University of Pittsburgh labeled with the NSABP Study Number - patient identifier used for tracking the enrolled patients in the NSABP trials. At the Biostatistical Center they are logged into the computer data file. In order to conduct quality control for the materials received, copies of the pathology report and a data form (form D-1) are also collected. The database maintained at the Biostatistical Center does keep patient names for clinical data collection purposes. However, none of the personnel from the Division of Pathology has access to any of the clinical data files or computers at the Biostatistical Center. Materials without patient identifying information or clinical data are then batched and shipped to the Tissue Bank laboratory. Upon receipt of materials a new serial number is assigned and an electronic tracking file that does not contain patient identifying information is generated. The only link to patient identity is NSABP Study number which is kept for the purpose of linking clinical follow up data at the end of the study. This is also necessary to identify the correct materials to send back to institutions when they request the return of the materials for the purpose of patient care.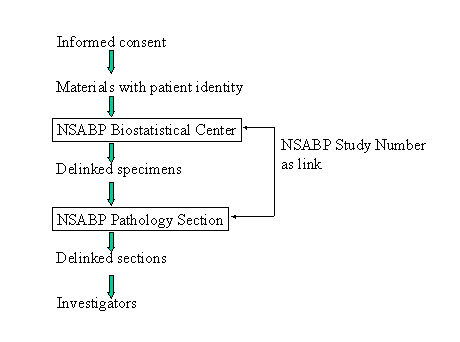 Nature of the Materials in the NSABP Tissue Bank
Paraffin embedded tumor specimens are available from NSABP trials as indicated below. We currently do not bank frozen tissues.

What Kinds of Information are Associated with the Banked Tissue Blocks?
All blocks are from patients enrolled in prospective NSABP treatment protocols and complete clinical follow up information as well as demographic information is available.

What Kind of Materials do we Provide to Collaborating Investigators?
Depending on the project, unstained tissue sections of 4-micrometer thickness, tissue microarrays, or stained slides are provided to the investigators in a blinded study format.

Who has the Access to the Banked Tissue Blocks?
Any investigators with novel projects that conform to the research goals of NSABP may apply for the tissue. Please refer to the NSABP Tissue Bank Policy to determine if your project conforms to these goals. Priority is given to NSABP membership institutions who regularly submit tissue blocks. Investigators from institutions that refuse to send blocks are given the lowest priority. Since our tissue resources are extremely limited, we are able to collaborate with only those investigators with novel reagents or technology and promising preliminary data who seek to verify their initial observations in a large-scale study. All the routine markers are examined at the Division of Pathology. We specifically discourage proposals from investigators who do not have their own laboratories and are acting as a pass-through facility.

Can GWAS studies be proposed?
In principle, NSABP does not accept proposals for germline genetic studies or GWAS, since we do not have the patient consent to support such studies. While germline genetic studies can be performed by using a third party anonymization process, the process requires a substantial resource allocation and typically will be conducted by the NSABP headquarters only if there was a critical need to validate such markers.

Are sections available from NSABP trials B-14, B-20, B-17, or B-24?
The tumor blocks from the above-listed trials are nearly depleted and in high demand. The NSABP will not accept proposals for single marker immunohistochemistry-based studies for these protocols. Only proposals for final independent validation of already validated multi-marker-based prognostic or predictive algorithms with pre-defined cut-offs for specific clinical utility are accepted. Rare exceptios for accepting such proposals for review are given to proposals based on extremely exciting novel technology platforms for discovery, at the Director's discretion.

Is there a Specific Deadline for Application?
No. The NSABP accepts proposals or Letters of Intent (LOI) anytime.

Where Do I Send the Proposal?
Submit the proposal through the NSABP Web portal: http://tbpm.nsabp.org

Is there a Specific Form that I have to use to Apply for Tissue Blocks?
Yes. You must first submit a Letter of Intent to request tissue blocks. The LOI application at a minimum requires a defined hypothesis, background and preliminary data, specific aims, a description of the type and number of specimens required for the project, a well-developed methodology and statistical analysis plan, and a statement of the project's significance. For a copy of the application, contact Teresa Bradley by e-mail (teresa.bradley@nsabp.org) or by phone at 412-339-5257.

Is there a Contact Person in the NSABP Pathology Section who is Available for Consultation Before Sending in the Application?
Yes. Please e-mail Dr. Soon Paik (soon.paik@nsabp.org) or send him a fax (412-697-6613). Please do not call.

For information on the review process and submission of an application (LOI), contact Teresa Bradley by e-mail (teresa.bradley@nsabp.org) or by phone at 412-339-5257.

How Long Does the Approval Process Take?
You will be notified of the decisions within 2 weeks of the final approval, which may take up to 6 months.

Does NSABP Fund the Collaborative Projects?
No. It is the investigator's responsibility to seek proper funding before contacting the NSABP for tissue blocks. We do not provide tissues to unfunded investigators. However, for novel projects we may provide letters of support for new or continuing grant applications if approved by the NSABP committees.

Back to the contents

---

3. Information About Maintainance, Distribution, and Utilization of Biologic Specimens

I. Maintenance of Patient Biologic Specimens
The NSABP Tissue Bank is located together with the Division of Pathology Laboratory in Pittsburgh, PA. Building entry is monitored during working hours. Keys allowing access to the Division of Pathology are distributed to a limited number of NSABP laboratory employees, executive staff, and building security. Access to others is limited by locked-access entry beyond a vestibule area visible to personnel, who grant access via an electronic lock. Only a limited number of authorized NSABP personnel (Director, Molecular Pathology Manager, Administrative Manager, and Data Managers) are allowed access to material stored in the biorepository.


All blocks, unstained slides, and core sample specimens are stored in a cold room, which ranges between 38-40°F, in the NSABP Tissue Bank.
All stained slides (H&E) are stored in an ambient temperature storage room in the NSABP Tissue Bank.
All materials are logged into a separate computer databases at the Biostatistical Center and at the NSABP Tissue Bank. No one except Biostatistical Center personnel and a limited number of NSABP Tissue Bank personnel (Director, Administrative Manager, and Data Managers), respectively, have access to these databases.
When sectioning, a Histo Collimator-equipped microtome is used so as not to deplete the tissue blocks.
At least two representative unstained sections from each used block are stored in a permanent file, when possible.
II. Distribution of the Biological Specimens

Application Process

Application deadlines: There are no application deadlines; decisions for the distribution of tissue are typically made within 6 months.
Application: Any investigators who desire to access NSABP tissue bank cases must apply via the Web-based TBPM system (http://tbpm.nsabp.org).
Availability of the biological samples and information concerning the application submission and review process will be announced through the NSABP Division of Pathology Website.



Review Process

Applications (LOI) are reviewed for feasibility by the Director of the NSABP Division of Pathology Tissue Bank.
Favorably considered applications are then forwarded to and reviewed by an independent external review committee comprising an independent panel of experts, and secondly, by the NSABP Specimen Use Review Committee at the Operations Center. The Specimen Use Review Committee includes the NSABP Chair, two Associate Chairs, the Breast Committee Chair, the Colorectal Committee Chair, a statistician from within the NSABP, the Chief Financial Officer of the NSABP, and the Chief Executive Officer of the NSABP. The Director of the NSABP Division of Pathology acts as moderator of the meetings. The committee may also include ad hoc members as necessary.



Review Criteria

Scientific merit is judged by 1) importance of hypothesis for future diagnosis and treatment of breast or colorectal cancer, 2) originality of the project, 3) credibility of the investigator, and 4) existing peer reviewed funding.
In general tissue distribution will be restricted to investigators with novel findings or novel reagents. We will not provide tissues to investigators proposing to screen a large number of samples with widely available reagents/methods. Most importantly, however, all proposals need to conform to the overall scientific direction of the NSABP, which is verification/discovery of therapeutic response variables. This strict guideline is designed to limit the use of NSABP material only for validation studies or state-of-the-art pilot studies.



Mechanism of Distribution and Protection of Confidentiality

Blocks will be always kept in the NSABP Tissue Bank storage space and will never be sent to individual investigators.
Only sections prepared to the investigators' specifications will be provided; these will be coded with Tissue Bank ID numbers, which differ from NSABP study numbers. There is no way for individual investigators to back-track to the identity of the patients involved.
III. Utilization of Specimens to be Obtained from Patients on Intergroup Trials

All tissue blocks from patients on Intergroup trials are to be stored in a separate cabinets.
Intergroup materials are readily available to investigators with proper approval from the Intergroup, if there is no direct scientific conflict with on-going NSABP studies.
Back to the contents
---

4. Important Information about Submitting Blocks to the NSABP

We have noticed that NSABP sites are submitting blocks that are padded with bubble wrap. This is creating a problem because the bubble wrap has melted into the blocks destroying them. PLEASE DO NOT USE BUBBLE WRAP TO PAD YOUR SPECIMEN SHIPMENTS; USE PAPER INSTEAD! Please share this information with anyone within your institution who is responsible for shipping blocks. These blocks represent a valuable resource and we do not want to see them wasted.

Back to the contents

---

5. Protocols with Pathology Material Available for Study

Characteristics of Patients for whom Pathology Material is Available for Study.

Back to the contents